Work From Home Niche WSO Keyword List
This Offer Is Exclusively Available To Members Of The Warrior Forum
** ONLY 25 'WORK FROM HOME' SETS AVAILABLE AT $8 BEFORE THIS OFFER IS CLOSED **
Warriors - STOP! Read This First
IF YOU HAVEN'T ALREADY DONE SO, YOU CAN CLAIM YOUR FREE KEYWORD LIST CONTAINING 73 VALUABLE KEYWORDS FOR THE LUCRATIVE WEIGHT LOSS NICHE AT :
As soon as 25 Warriors have purchased this work from home low competition keyword list at this special price the offer will be pulled from the market and listed at full price.
Once the offer is pulled it will go up for sale at $14.95
and
there will only be 25 sets sold at full price
. This means
only 50 sets of this keyword list will ever be released
.
The Facts On This Work From Home Keyword List
The market for "work from home" is large and very competitive. You want to see how competitive? Take a look below:

If you can tap into the lower competition phrases in this niche there are many ways to monetize the traffic. This list has keyword phrases with an ad cost in the range of $0.63 to over $4. There is high advertiser competition in this niche.
Every month people search on average 1.22 MILLION times on Google
for terms that contain this phrase in the US alone.
Work From Home Average Search Volume ( Google.com ):

You will also note above that there is very high advertiser competition. In fact at the time of writing there are
17.6 million results in Google
for "
work from home
" - that's exact keyword phrase competition. The word 'competitive' doesn't do this justice, so you need to go wider with the long tail keyword phrases if you want to get the easy traffic and money in this niche market.
You will also see that the trend below shows that interest has been consistently increasing over the last 5 years in this niche and that it is currently very high. This is no surprise given the state of the economy with people losing jobs and/or having to look for a secondary income..
Work From Home Trend Graph

Work From Home Affiliate Programs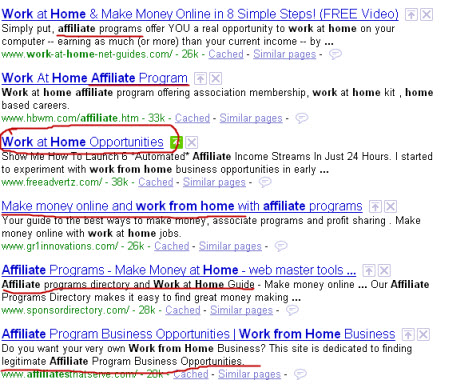 There are a ton of work from home affiliate programs and products you can promote as you can see above. The ad cost of these keywords is also high so they would also be suitable for Adsense. Lots of people are looking to work from home, particularly right now, so simply give them what they want with this low competition list.
Work From Home Low Competition / High Search Count Keyword List Set:
Only 25 sets of this keyword list are available to members of the Warrior Forum
Once 25 members have purchased this list this offer will be pulled immediately.
This list contains 56 keyword phrases about Work From Home with <100,000 exact phrase competition
This list contains 38 keyword phrases with <50,000 exact phrase competition
30 of these keyword phrases have <35,000 exact phrase competition
51 of these keyword phrases have an advertiser cost between $1 and just over $4

Many keyword phrases on this list have HUNDREDS of monthly searches. 9 have between 1,300 and 4,400 searches a month.

work from home ______ _______

has an average of

4,400 searches a month

work from home ______

has only

730 exact phrase competition

________ work from home

has an

advertiser cost of $3.34

Cost:

$8

to

ONLY 25 Warriors
SECURE PAYMENTS THROUGH PAYPAL
We accept any major credit card via PayPal - the most secure way to pay online.
Warriors - Don't Forget To Claim Your FREE Weight Loss Keyword List
IF YOU HAVEN'T ALREADY DONE SO, YOU CAN CLAIM YOUR FREE KEYWORD LIST CONTAINING 73 VALUABLE KEYWORDS FOR THE LUCRATIVE WEIGHT LOSS NICHE AT :